A streamlined referral and booking process: here's how it works
We know that booking an appointment with a specialist isn't always easy or convenient. With St Vincent's Priority, you can now make an appointment with a Specialist online in a few simple steps.
Step 1
Select the type of Specialist you would like to see, and the type of appointment - New or Review (have attended before).
This will show you the next available Specialist appointments within a 10km radius of you or the location you set. To broaden or narrow your search, simply adjust the radius area on the map.
Step 2
Click on the appointment date and time that suits you best. You'll be asked to enter your information. You'll also be able to upload your referral letter and send it directly to the Specialist's appointment system.
Step 3
St Vincent's Priority will send you an email confirmation for your successful booking. You will also receive a reminder closer to the appointment date.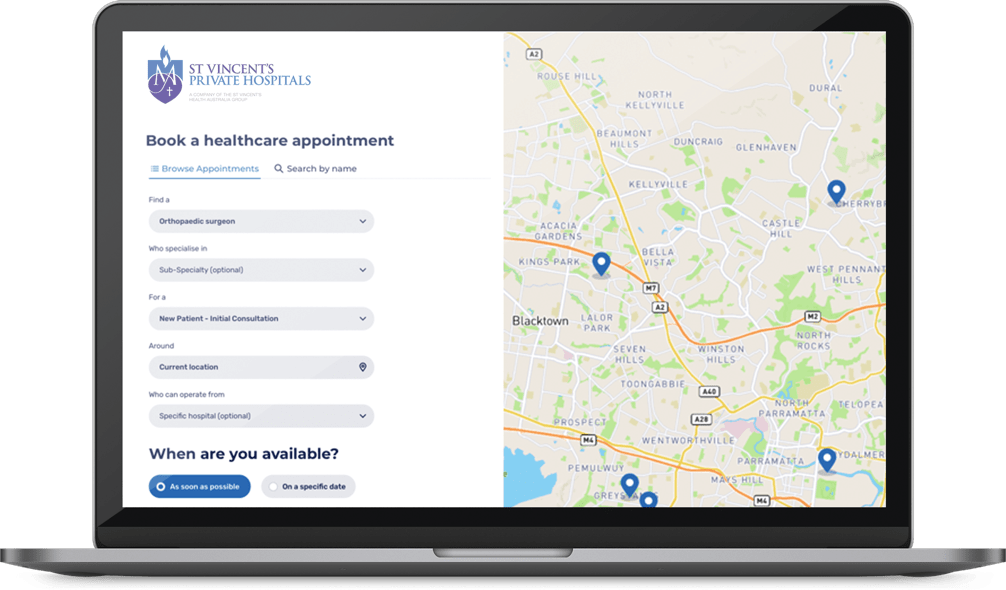 General Practitioners can also use St Vincent's Priority to book on behalf of their patients. A major benefit for GPs using St Vincent's Priority is the knowledge and confirmation the appointment has been made, and the notification they receive once the patient has attended the appointment.